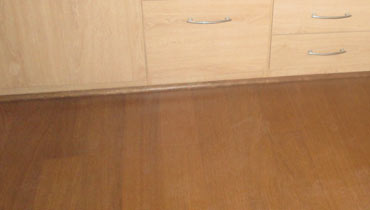 Engineered Floor Fitters experts work with commercial clients in London for a long time and already have a lot of accumulated knowledge and experience. Our technicians recognise the demands of the business branch and the need of providing timely and affordable service in professional and well-organised manner in order not to interrupt the working day of our clients or to save them as much energy, money and time as possible. This is the reason behind the intention of our experts to create the ultimate office engineered floor fitting guide for our London clients and to ensure their realistic expectations and informed choice. Here is a little more about what our office engineered floor fitting service consist of.
Inspection
Engineered wood material is constructed under a strict quality control, however despite that fact, damages on single planks or transportation damages are possible. Our experts will check the panels before installation. We will visit your office at a convenient time, inspect the room where the installation is planned and discuss with you the best office engineered floor fitting strategy.
Subfloor
All subfloors should be prepared in order to ensure a smooth going fitting process and the best final results. Before the floor installation, there are several tasks you have to consider:
The moisture test – Subfloor must be completely dry since the moisture can cause loose planks, wood cracking and other issues in future.
The evenness test – The concrete base must be levelled to ensure the smooth and sleek look of the installed engineered wood planks.
The cleanness test – The subfloor must be vacuumed and clean because dirt and dust can react with the wood adhesive.
Meeting the above-listed requirements, our technicians are now ready to start with the office engineered floor fitting. Engineered wood planks have the flexibility to be installed in various ways, including floating flooring configuration. The floating construction is a great option for subfloors, which can't be levelled or dry for some reason. Engineered wood is better installed over all types of concrete, particleboard and fiberboard bases and over existing flooring such as PVC, linoleum, ceramic tails, etc. In some cases, we may suggest additional services such as applying insulation and moisture barrier underlayment in order to prevent the flooring from issues and to secure existing cables, pipes, heating systems.
Installation
Engineered wood planks look best if laid parallel to the light coming from the windows. Engineered wood planks come in a tongue-and-groove fitting system, which gives us a lot of installation alternatives. During laying the planks, structural gaps should be left in order to allow wood's expansion. One of the most popular options for fixing the flooring planks is by stapling them, nailing down or embed with quality wood adhesive.
If you need more information about our office engineered floor fitting service, or you want to book an appointment, feel free to call us on 020 70360623.
Testimonials
I am very happy not only with the result, but mainly with the time and attention the both technicians spent on making the best for my project!
Sredko and Nick are amazing and well-trained. You can easily recognize their professionalism by their work and the whole positive experience I've had with your team. Your customer service members are also really friendly and helpful!