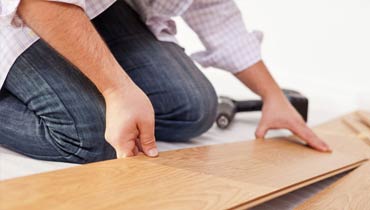 Engineered wood flooring is a popular choice when you have to plan the design of a room which gets to be a bit difficult to remodel due to some quirks it may have like high humidity level, closeness to a wet room, being near the ground, touching a concrete floor and others. Choosing this type of flooring is a pretty budget friendly option, or, at least, way more affordable than the hardwood option. Opting out for a high quality engineered wood product could bring you most of the features and benefits of a real wood product.
By getting the variety of looks, textures and colours you get the best of the wood species like the wood's warmth and classy vibe. In addition, you get the benefits of specially manufactured products which are made to last more, easy to maintain and easy to install. Fitting an engineered wood flooring may not seem like a complicated procedure and when done by experienced technicians, such as our specialists from Engineered Floor Fitters, you are guaranteed the perfect outcome for a long-lasting project. In conclusion, if you are planning a fitting in London – we are your helping hand!
Let's talk a little bit more about engineered wood as a manufactured product. It's made from 3 to 15 layers depending on the quality of lumber material or plywood, glued together (preferably the pieces should not have been glued with hot glue if you wanted the final product to be extra sturdy) and topped with a layer of the real wood people see. Engineered wood comes in planks which gives the product the flexibility to be installed in various ways in order to be suitable for every room, subfloor and setting.
Unlike solid wood, engineered wood can be installed even onto the uneven and slightly damp subfloor with significantly smaller danger for the wood's contraction and unfixing. The floating installation system makes engineered wood a good option for humidity areas and the different levels of the building, including the basement. In addition, the solidness of the material makes it perfect for commercial buildings, because it's made with high traffic resistance finish and it's more adaptive to the environment and the new setting.
However, before the flooring project in London starts, we would like to offer you a free site visit. This is in order to inspect the condition of the environment in the room where the floor will be installed and to provide additional information and to suggest prior preparation all of them needed to ensure the best results in the end. Levelling the subfloor, checking the level of moisture and cleaning it from dirt and dust is essential. If not the wood adhesive can react and cause loose and unfixed planks. It is, in fact, really important for the flooring material to be left unwrapped in the new room for a while to get the chance to acclimatise.
Engineered floor fitting is a flexible process and depending on the subfloor have a few different installation options. For example, for a plywood base, experts suggest stapling. Stapling is an easy and quick installation method because it doesn't require additional products and materials and the plywood underneath will make the flooring sturdy and will work as a moisture barrier. Otherwise, the tongue and groove styled planks can also be glued or nailed directly to the subfloor, or the floating way, by glueing them to each other.
Testimonials
I'm totally pleased with the job done. Thank you for the friendly and professional in the same time approach, will recommend you to my friends.
Thank you for the fantastic job! Everyone around me say to me they can't imagine my floor isn't solid wood but engineered wood, this is how perfect it looks
Chris just fitted my new engineered floor at home and I am so pleased I want to hire him for my next project – my office. Guys, you can totally bet on this company (and ask for Chris!).
I am really glad with the result. Thank you and will recommend you to my sister, she is planning a home and floor remodeling project and I have hope you can handle it!
Very good, I am really happy and will recommend you. Thank you!