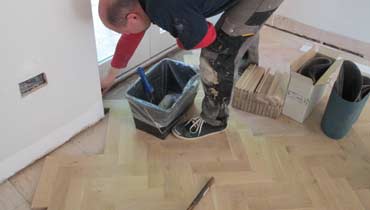 Engineered flooring comes with the flexibility and the numerous possibilities to be installed in a variety of ways in order to cover the possible requirements of the clients. People usually would take into consideration the different settings, the environment, the subfloor, the specific dimensions and the need of the project overall. This makes this kind of wood flooring product adaptive to almost any setting, unlike hardwood or parquetry for example.
This wood is a great option for different projects, including domestic houses and commercial buildings, areas with elevated humidity, high traffic spots and others. For that reason we have decided to cover all areas of engineered wood installations in London, providing our specialised laying system for all contractors and all kinds of projects. There is no such thing as too small or too big of a project, limited time and budget, or too challenging room. We are able to help in any situation once you have considered this wood flooring for your home, office, entertainment centre or school.
Our experts have dedicated years of their life to get the experience and knowledge in order to create a proven fitting service, which can cover all requirements and meet the highest standards in the profession. While the topic of choosing this flooring instead of hardwood is still controversial, we already have plenty of successful projects proving to us, at least, the value of engineered flooring. Finding the perfect balance between the methodology and counting on the proven to be efficient equipment, products and innovational installation systems. Our team focuses its priorities to please every client, showcasing respect to every desire and idea and giving individual approach and attention to detail. Here is a list of the services we guarantee the best results at the London area:
Engineered wood floor fitting for private residenses
Engineered wood floor fitting for public areas and buildings like offices, restaurants, retail and showrooms, clubs and bars or schools.