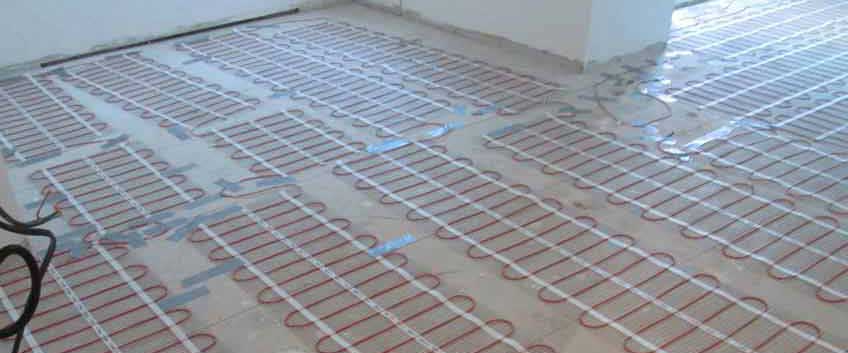 With colder months coming closer on the calendar pages, we usually start to think of effective methods for warming up the house without breaking the bank. A great way to keep your feet toasty and your heating bills low are considering the installation of the underfloor heating system under your wooden floor. Before undertaking this, however, our experienced flooring professionals in London share with you some pros and cons you have to keep in mind when starting the project. That way we ensure you make the smartest choice for your situation!
Underfloor heating is a great option. The heating system is created to offer even distribution of the heat, creating a really cosy and pleasant setting and promising reduced heating bills at the same time. To be sure you make the most cost-effective choice when considering underfloor heating, here is what you have to know further.
The very important thing is the feature of wooden floors to expand and contract due to changes in the environment. Moisture and humidity, also high-temperature amplitudes affect the structure of the wooden installation, making it contract during the colder months when the weather is relatively dry and expanding during the warmer months when humidity is the main issue. In fact, this feature of wood can't be neglected, but it doesn't depend on the quality of the material and its age. It is just something you have to keep in mind when purchasing underfloor heating because too much contraction and expansion of the construction can bring you to major issues like loose or broken planks ad wear and tear in general. Keep in mind the contraction can be amplified by the underfloor heating.
Wood is also a great insulator. This means wood can work as a natural barrier for the underfloor heat and slowing down the transmission, especially for solid wood timber with natural heritage. This reduces the effectiveness of the heating system, but the good part is that would also hold the heat for a longer time than any other floor covering. That way you can be sure that even when the heating system is switched off, you still have a pleasant warmth in the room. Another plus is that the warmth, you get from the underfloor heating is evenly distributed and it doesn't create hot spots, unlike other heating devices.
Please, keep in mind a heating system can be installed under every type of wooden flooring and the professionals will advise you on the best option. However, with no doubts engineered wood is the total winner in this situation. Engineered wood can be installed floating over the subfloor, which makes it great for fitting underfloor heating and insulation. Otherwise, if you already have an existing engineered wood floor, the planks are really easy to be re-installed after.