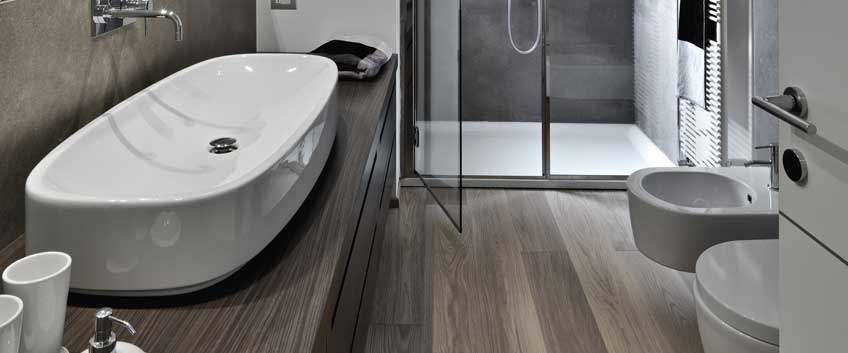 We often get this question: Could you install wood floors in the bathroom, really? And the only true answer is – yes, you can enjoy the beauty of hardwood in the bathroom. We understand that people are confused by the idea of hardwoods in bathrooms. After all, we have mentioned it way too many times, but when it comes to bathrooms, they are humid, and there is steam, and also moisture, and as we already know all of the above mentioned are not exactly the best environment for hardwood floors. Because of its natural origin, wood is practically very sensitive to its environment and not practically highly recommended for areas, where humidity is an issue. Because of all the moisture, humidity and temperature changes, it responds naturally by expanding and contracting and all the movement can lead to more serious issues like loose, chipped, even broken boards and more. In this line of thoughts, bathrooms are for sure not a friendly place for hardwoods. So, why we are talking about wood floors being installed in bathrooms with no serious issues and problems expected? Let's see why!
In general, speaking of wooden flooring most people are thinking about solid wood, but this is not the only option you have. First, let us explain why solid wood is not recommended for installation in bathrooms. In general, its boards are made entirely from one piece of wood and because of that, they come with all the natural characteristics - the porous structure that responds to humidity and moisture with expanding and contracting. Because of that solid wood floors are definitely not a good idea for bathrooms, where shower and bathtub are in a frequent use. They will absorb all the surrounding moisture and as a result, it will start swelling. However, you still can enjoy the unique look in your bathroom and here is how!
Engineered wood is your best friend in this situation. Many people are confused that engineered wood and laminate are the same things, but they are really not. While laminate is made from anything else but real wood, engineered wood is actually made entirely from natural products and materials. It looks exactly like solid wood when installed, this is because we find in nature closer to hardwoods.
However, engineered wood makes a more stable and more moisture-resistant floor than solid wood because of its specific structure. Engineered wood planks and boards are made from a number of layer that are glued together crisscrossed. Because of this arrangement of the layers, engineered wood is almost completely resistant to moisture and humidity and will remain sturdy even in extreme situations and environments as bathrooms could be considered. The biggest advantage of engineered wood is its dimensional strength, or otherwise said – the fact that it won't swell with moisture.
In conclusion, if you are lusting the unique and classic beauty of hardwood floors for your bathroom, there is one very good solution that makes the situation a win-win and this is engineered wood.