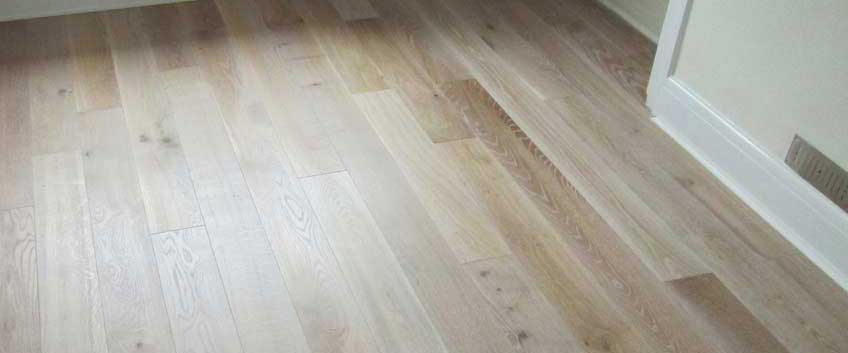 Many people ask for professional advice when starting a DIY wood floor installation project and we decided to share our knowledge with you in this article. Of course, the fitting of a wooden floor requires an individual approach and personal advice, so be sure to ask for more information from our London experts. However, here are some basic rules you have to keep in mind when undertaking the task by yourself. We will give you examples with engineered wood floor installation since this is the type of flooring, which offers the biggest variety of installation methods. However, most of the tips and bits of advice apply also to solid wood and parquetry.
The Subfloor
Depending on the subfloor you start with, you can plan the whole project around it for successful final results. The most popular and common types are:
Concrete
If you have concrete or stone subfloor, you have two options – solid wood or engineered wood. Engineered wood is, however, the better option. It can be glued down or installed the floating way, which is good for concrete, which can't be levelled for some reason, or it is damp. Solid wood timber will get loose and start to contract and expand due to the moisture.
Plywood
The best underfloor for solid wood flooring, which can be nailed or glues down. You can also choose engineered wood and install it floating over the plywood.
Particle board
Once again, you can install solid wood and engineered wood planks over a particleboard base. Solid wood timber you can nail or glue down. Engineered wood can be glued down or floated.
Underfloor heating
The best flooring option for underfloor heating is engineered wood. Engineered wood is more durable and resistant than solid wood and not that sensitive to high-temperature amplitudes and extremes. Just be sure to fit the engineered wood planks floating.
Installation
The most popular installation methods, suitable for either solid wood timbers, engineered wood planks or parquetry blocks are: glueing down, nailing down and floating installation. Here is a more in-depth for each of them:
Glued down
Gluing down your wooden flooring is the easiest, fastest and safest way to fix it. The method requires only a quality wood adhesive, which we can recommend to you. You can glue down all kinds of wood flooring over all kinds of the subfloor, simply apply the adhesive, lay down the materials and wait for it to dry. In addition, if you are using an adhesive over concrete, make sure to install a moisture barrier membrane beforehand.
Nailed down
Nailing down is good for all kinds of wood flooring over plywood or existing wooden planks underneath. If you work over existing planks, just make sure to fit the new ones in the opposite direction to add more stability and resistance to moisture. Nailing down the wood planks, bocks or timber may seem like too much hard work and time to spend, but this type of installations offers a lot of durabilities, solidness and long-lasting effect.
Floating installation
This is the easiest option for DIY-ers. This is also the perfect option for over uneven and damp base or underfloor heating. Simply install a moisture barrier membrane and glue together all the planks over the subfloor.