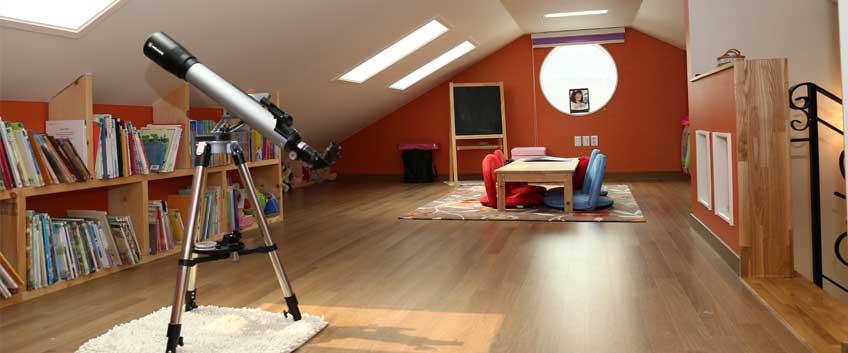 More and more people are taking the opportunity to enlarge the space of their home, adding an extra room or extra storage space by projecting a loft conversion. Loft conversions are a great option to enjoy even more space and utilise the unused space your house already has. Loft conversions are a pretty serious investment too, because of that you have to think carefully of any detail. Of course, as it is with every other room and space around the house, flooring is amongst the most important components of loft conversions too, because of that you have to take your time and plan what is the best flooring option for your loft conversion. Let's have a more in-depth look at the topic.
Loft conversions are different projects, they depend on the free space you already have. Even if your loft or attic is already boarded out, you are most probably going to need to make the floor even more solid and sturdy with stronger joints. In addition, because of the nature and location of the loft conversion, soundproofing insulation might also be needed and all these additions give you the perfect opportunity to plan a new wooden floor out and choose the look and appearance that make you feel happy and that make the whole space look more put together and cosy.
Preparation
First of all, be very smart with your planning. Think of the project and what you will need and use the space for, so you can utilise it and make it work the best. Before installing a new floor, now is the perfect time for cabling the space and having your electricity, broadband and telephone cables set and ready. The subfloor will also require to be insulated with sound-proofing insulation and this is the perfect time to do all these things and not be bothered later on when your new floor is already installed.
Hardwood
Hardwood or engineered wood are probably your best options, when thinking of loft conversions flooring. They are not only made out of natural materials that last for decades and require less maintenance, time and money. They also look amazing and match every interior design. Wooden flooring comes in an amazing variety of colours, wood species, finishes, grains, textures and more and you have an amazing opportunity to customise your space and make it look the way you have ever dreamed of, without even spending such a big amount of money. Wood flooring is also a very hard-wearing and sturdy option. If you have beams or joists exposed, then wooden flooring will be the best way to compliment them and create a very cosy and elegant space. When choosing on wood species, light wood is a very clever choice, because it will visually make the conversion appear larger and more spacious. Darker honey shades, on the other hand, are amazing for creating a very cosy atmosphere and setting you will enjoy spending your time at a lot. Try to stay away from very deep and dark shades, because a loft conversion is a place with a lot of light and this is its best feature, and dark wood will only take away of this beauty.