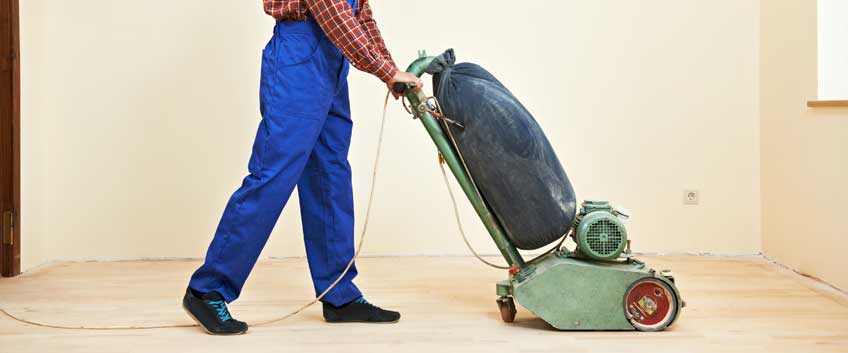 Engineered wood is a relatively new product on the market, although many people already enjoy the presence of engineered wood flooring in their homes and workplaces too. Enjoying is the best way to describe engineered wood floors since they are a "baby" of years of development and improvement of the already existing concept for real wood flooring. Although engineered wood is made out of natural wooden materials only, just like solid wood, its concept is improved and designed that way that most of the damages solid wood is prone to, are not at risk. Let's have a more in-depth look at how engineered wood flooring is made so you can understand how to maintain it properly and whether or not it is the best option for your project:
Before considering sanding and refinishing for improving the appearance of your engineered wood flooring, you have to be aware of its thickness that is determined by the number of layers it is made out of and the thickness of the top layer. At least 2.5 mm of thickness is required for sanding treatment to be possible, otherwise sanding may go through the plywood base of the planks. 4-5 mm wear layer (top layer) is the best option.
Depending on how the level of your engineered wood is, if you have an engineered wood floor installed that is pre-finished, you should be aware that you will lose some of the levels that separate each board.
If you are a fan of the hand-scraped look and the surface of your floor is treated that way, then be aware that you will also lose some of the scrapes after the refinishing process. However, this depends on how heavy the scraping is.
If the surface of your engineered wood floor is already stained, due to the sanding and refinishing process, you will also lose some of the colours and there will most probably be some colour difference. This is not a bad thing if you want to change the colour generally, but if you want to stick to the same stain, you can always go very close to the natural stain, since there are so many staining and dying products offered on the market and different shades can be mixed, so the perfect colour match to be achieved. Don't worry, because your professional refinisher can achieve a uniform and even look.
When it comes to the finish itself, after the sanding and refinishing process, the finish will be different (in most cases). Most of the engineered wood manufacturers use aluminium oxide as a finish, but refinishing professionals do not use such products. Most commonly your engineered wood floor will be re-finished with a professional oil-based polyurethane or a commercial water-based polyurethane. Both types of finishes are very durable, hard-wearing and visually improve the appearance of wood.
So here it is, you already know everything you should be aware of, when planning to sand and refinish your engineered wood floor. Do not be afraid and do not hesitate, because every re-finishing treatment is recommended every now and then and is beneficial.