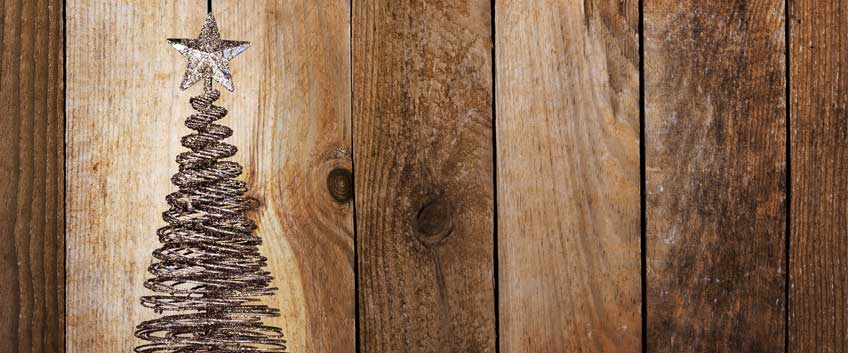 Ah, Christmas! The best time of the year. Just name it – everything is made to bring joy and excitement – good food, festive movies, watched under fluffy blankets, cheerful songs and positive tunes, fairy lights and sparkly decoration and ornaments everywhere, happy families gathered to celebrate the most amazing Christian holiday and children waiting for their presents under the Christmas tree. Wait, what about the Christmas tree? Is it ok to have one placed over your wooden floor? How about the scratches, fallen needles, water and so on, and so on? Let's be real, Christmas time is definitely not the best time for worrying about your hardwood floors. Be sure you spend the holiday in harmony and rest and not thinking about the potential damages the fake or real Christmas tree can cause to your floor, simply followings few useful tips, recommended by our flooring experts at the beginning of the season. After all, it is the most wonderful time of the year!
Tips for fake Christmas tree
Fake trees are very popular nowadays because they save you a lot of energy and time for putting on and maintaining. No needles mess and so one is great, however, you have to be aware of other potential damages. Fake Christmas trees often come with hard plastic or metal stands, which can very easily scratch the floor. Don't worry, because you can place a tree skirt or a rug under the tree and prevent your wooden construction. It is a great idea for artificial trees because under tree skirts come in a variety of festive patterns and that way you will add extra decoration to the room/
Tips for real Christmas tree
Well, there is nothing better than the scent and look of a real Christmas tree, for sure. Hands down, it is not that easy to look after. And no one would like additional tasks during the festive season. Here is how you can protect your hardwood floor in case you choose a real tree. First of all, real Christmas trees come in pots, which means you have to water them once in a while. To prevent water soaking into your floor, or scratches left by the pot itself, be sure to place a skirt or rug under the tree. And since real trees are well-known for the needles mess they leave, placing something underneath the tree will also help protect your floor from fine scratches. In case you want to minimise the needle fallout, place the tree in a corner, where your guests and Santa Clause won't create a major fallout every time they pass by. As simple, as that!
Finally, to prevent your hardwood floor from getting scratched by heavier objects under the tree, including big presents and little children, sleeping under and waiting for Santa, be sure to remove them immediately and unwrap the boxes. Another option you can consider is choosing a small-sized present for your wife because you know what they say – the best present comes in smaller packages. Keep that in mind!