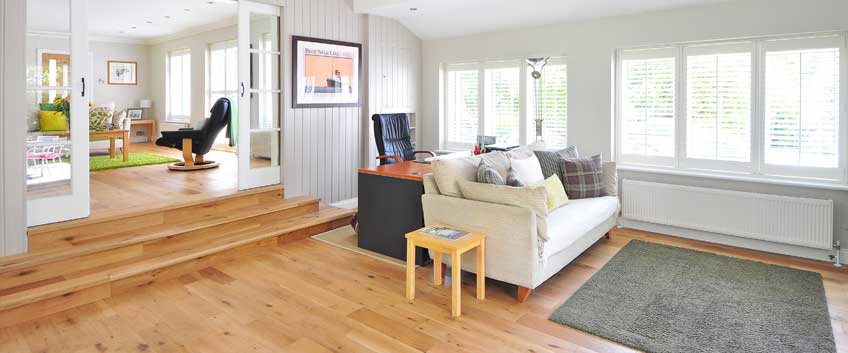 A house with wood flooring is something most people are going for when researching and diving into the amazing world of the real estate market. While wood flooring is pretty much a strong selling point in many cases and for any agreements between clients and real estate agents, it does not mean that you have just hit the jackpot! Wood flooring may be a key feature to many interior designs, guaranteeing practicality, functionality and comfort, also elegance and a lifetime service, however having one passed to you by the previous owner of the house does not mean you are going to have it in perfect condition. And let's be real, sometimes restoring an old and damaged wooden floor simply doesn't worth it. Today we are sharing with you this helpful guide to what to keep your eyes peeled for when buying a house with a wooden floor.
Timing is crucial. And by timing, we mean saving yourself the regrets such as: "If only I knew, I wouldn't buy this house!". Well, in fact, nothing has stopped you from knowing and seeing that the wooden floor you are going to spend your hard-earned money for is definitely not in perfect condition and requires expensive and extensive restoration and repair services. So, first things first, keep your eyes peeled for what you are actually buying and if you cannot say any difference, then be sure to hire a flooring professional to inspect the floor and tell you the rough estimate of the improvement services expected.
We have put the main criteria of estimating whether or not the wood flooring that is installed in the house you are planning to buy is worth rising the final price significantly:
Overview of solid vs engineered wood flooring
If your home does not have hardwood flooring yet?
What if the hardwood floor is already installed?
What can be considered as minor issue and you do not have to worry about
Of course, going into more details than this wouldn't be possible, since we believe that each case is different as well as things are often a subject of completely individual and personal experience, preferences, requirements, needs. It is always a good idea to ask the professionals for some help since they can provide you with a very definitive answer, which is definitely going to help you a lot!
Stay tuned for part two of the article series to learn and find out more about our opinion on the four main criteria. In the next article part two, we are going to dig a bit deeper into how a wooden floor can determine your final decision and which are the good and the bad options. Finally, no matter what your final decision is and even if you are stuck with a wooden surface in worse condition than expected, there is no place for worries. Even in the worst scenario, professionals and experts are always there for you to help!