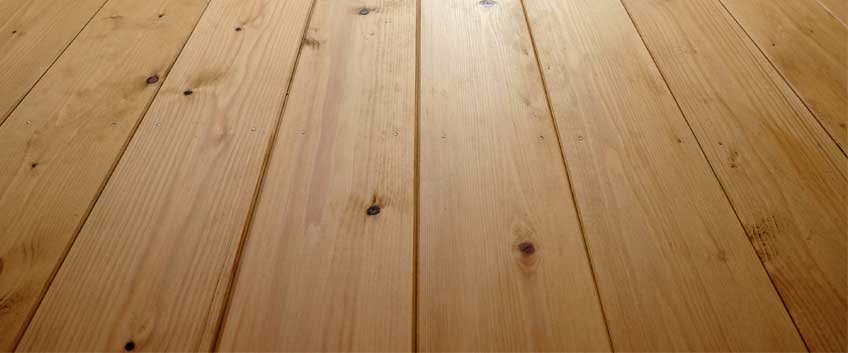 With the rise of the rustic interior design trend, cottage style wood flooring has been a centrepiece and foundation to this style for a long time now. It is equally likeable to find a cottage style wood flooring installed in an apartment or a house because it can complement any space and effortlessly and simply to achieve a very distinctive, unique and beautiful style. Old or modern, cottage style wood flooring can make a statement anywhere and anytime. When you think of cottage style, you are probably envisioning a small room with a lot of chintzy furniture pieces and a lot of bric-a-brac, but this is not quite the case and the style is more about achieving a general feeling of cosiness, comfort and warmth.
What more can you ask for from an interior you are going to spend most of your autumn and winter days at? Of course, a cottage style wood flooring will be a must for achieving such an atmosphere and setting. This sort of wood flooring solution provides a great backdrop for the staples and essential of the cosy, family-inspired style and feel – a comfortable seating, a number of rugs and throws here and there, reminding of a patchwork quilt, a big log fire, or an overall eclectic mix of casual pieces that are mixed and matched in a smart way. If this is not the best setting for wintertime and for spending the colder days inside, under a fluffy cashmere blanket, with a cup of hot coffee or hot chocolate and your favourite book, we simply do not imagine what can melt your heart!
Cozy interiors, in general, are a mix of eclectic and elegant style and wood is a staple for both. Wooden floors are made from natural materials and usually come with natural patterns, textures and colours, which adds an effortless, rustic, warm and cosy feel to each scene, without a doubt. In addition, wood floors are also naturally stylish and elegant. Thanks to cottage style wood flooring you can achieve a really superb end result and enjoy it for a long time, considering the lasting power and hard-wearing nature of natural wood. Here are some of our top choices:
Rustic solid wood
The vintage, country, old-world charm and character of rustic solid wood is almost mesmerising and unique, so it is easy to see why so many people are falling in love with it. Being oak wood species, there is a particularly robust feel to your floor and particularly the best choice for creating a cosy lounge area, bedroom, living room and more.
Smoked engineered wood
If you want to achieve a relaxed feel for more than your bedroom or dining room, then you cannot go wrong with smoked engineered wood that is both very appealing and unique and also the best and most durable solution for installation in areas, where there are usually high level of indoor humidity, moisture issues and regular temperature changes expected. As you can assume, engineered wood will make the perfect choice for bathrooms and kitchen areas.
Reclaimed engineered wood
Original reclaimed engineered wood is pretty impossible to find, considering the fact that engineered wood is a relatively new product and it doesn't have the chance yet to gather the experience required to be a reclaimed wood board. However, on the market, you can find a great variety of engineered wood solutions that are made to look like reclaimed and with their authentic charm and distinctive appearance you can achieve wonders for your interior design and style.