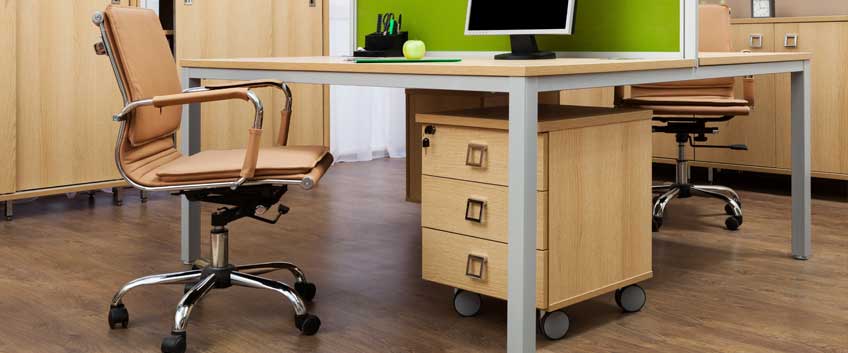 Choosing the right wooden floor for your workspace is as important as choosing the right wooden floor for your home. Of course, you would like it to be extra appearing, durable and long-lasting, easy to maintain and clean and to come at a reasonable price. In fact, choosing the right wood flooring for your workplace can be even more important and harder than settling on the same decision and solving the same dilemma for your home.
Considering the fact that your workspace is the place where you showcase your work, skills and talents, you are welcoming your clients, customers and visitors and, in general, you are doing your work and earning your money, the way this place presents you and your work is very important. You want to be presented as a disciplined specialist that values professionalism and correct communication, or you want to be seen as a very creative and original specialist in what you do? Well, wood flooring is going to work for you the best, no matter the impression you want to make because in general, wood flooring is making always a good impression.
Presentation and showcasing, wood flooring is mainly associated with class and elegance, luxury and professionalism, even artistry to some extent and this is why it makes the best choice for every workspace out there. In addition, wood flooring is very easy to maintain in perfect condition and to keep clean and appealing. It is hard to damage, resistant to high traffic and heavy footfall and even in case of issues and imperfections popping out, can be easily fixed. With that being said, wood is great because it saves you all the hassle and stress, leaving you focused on your work and more productive. Not to mention that wood floors are also a very healthy and hygienic choice because of the natural origin and the fact that they do not provoke allergies and other conditions.
In work environments, the décor that is enhanced by the natural beauty of wood is working always in your favour, it is comfortable and appealing. Since wood flooring has the full power to influence the ambience and atmosphere of any space, it is important to choose carefully.
Big impression in high impact areas
If you are managing a really big and spacious workplace, maybe you are in front of a decision on what to choose for all the different areas. Perhaps the top of your priority list is all about the meeting and conference rooms, where it is expected that more people will gather and there is a big chance that they will judge you by the appearance of the room. Of course, it is important to make that good impression and to ensure comfort, however, your target zone has to be the entrances, the reception and the waiting areas. These are the places where your clients are going to spend the most of their time as well as the first thing that a client will see and meet when entering your working kingdom and they have to make a good first impression (you never have the chance to change the first impression).
A sense of space
Wood flooring can help a lot in making smaller areas and corners look more spacious and bright and with that having more influence. By choosing lighter coloured wood, glossy finishes and wider planks you can create a great sense of space.
Easy and quick to install
One of the main advantages of most wood floors, but specially engineered wood, is the fact that they can be installed very quick and easy. That way you can keep the disruption to your working life to the minimum and this is definitely a win-win.