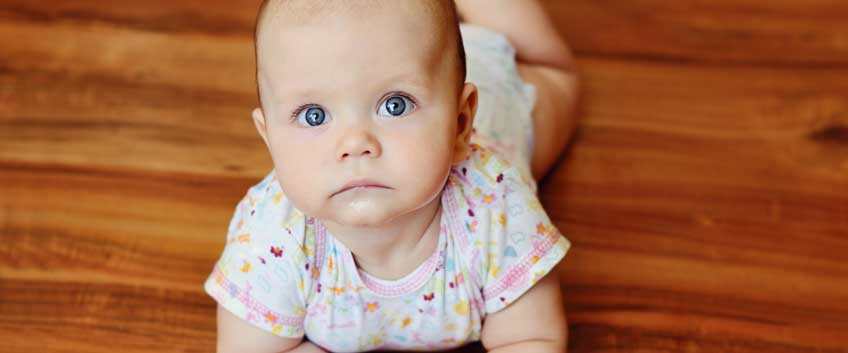 Having a baby comes with a lot of wonderful things and a lot of wonderful moments. However, having a baby comes also with a lot of worries. Being a father or a mother means that you are constantly worrying about something. Is the baby eating enough, is the baby cold, is the baby feeling ok, why is the baby crying and so on, and so on, the list is particularly endless! And when the baby starts to crawl your worries are going to double up. A crawling baby means you have to pay attention to your flooring choice. No matter if you are planning to purchase a new flooring at home, or you are stuck with your already existing flooring, you need to adapt the floor for your happy and enthusiastic baby crawling around the room!
If you are considering to remodel and purchase a new floor, then we have a few recommendations for you. In general, wood flooring is the best solution we can think of, so here are its advantages over any other type of flooring:
Wood is hygienic. Real wood floors as well as engineered wood floors are made completely from natural materials and are finished with completely safe and non-toxic finishing products. Being a real and natural material, wood is very hygienic and overall the healthiest option for the indoor environment. Unlike carpets, for example, wood floors are not attracting so much dirt, grime and dust. In addition, wood is really easy to keep clean and maintain. Having a crawling baby you are going to need a consistent, but timely and easy cleaning routine including everyday vacuuming and occasional mopping with a damp mop. Normally, no heavy-duty cleaning products are needed at all which increases the level of harsh chemicals in the indoor air. Finally, easy to maintain floors are good not only for your baby but also for you, because you are not going to spend hours and hours to make your floor look and feel sparkling clean and well-sanitised.
Wood is beautiful. Something more important – wood is beautiful without needing too much attention and care. This pretty much means that you can feel ok with unexpected guest visits because wood won't show that significantly all the dirt and mess left by your little fellow.
Wood is safe. Wooden floors can be very safe for your crawling fellow. Simply make sure to place rugs and mats strategically around the room so your baby can land on a fluffy surface when learning to walk.
Wood is warm. Of course, you don't want your little bundle of joy to get a chill crawling on a cold surface. Consider insulation before starting with the floor installation. Placing an insulation underlay under the wood boards are going to make sure no cold air is penetrating into the room from outside and no warm air is leaving the room through the floor.
Wood is hard-wearing. So, wood is the best choice for active families. You can play with your little fellow as much as you want without worrying about the condition and appearance of the floor.