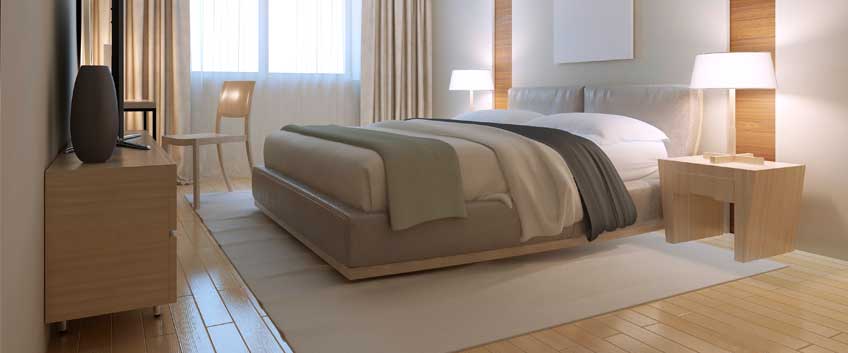 If you are lucky enough to have spare bedrooms in your house, where your guests sleep from time to time, but usually you use it for storage purpose, then maybe you are wondering how to take care of it. Of course, considering the fact that hardly anyone ever opens the door of this room, you do not want to invest too much in it. However, you cannot leave it just like it and a spare bedroom is a great opportunity to unleash your creativity and imagination and create an amazing setting, while still being on a budget. Today we will point out the most important features of a spare bedroom that worth it to invest in, the rest is your talent to find amazing decorations on a budget and we believe that you are great at finding such things.
Although it might be pretty tempting to leave your spare bedroom just like that, you know you cannot afford that. After all, every room of your house, even the spare bedrooms, are a part of the whole organisation and the whole organism your house is, so in order for your home to function properly and to bring you joy and happiness, then you have to pay attention to all details and to every nook and corner.
Of course, starting with the improvement of a spare bedroom, you have to think about the most important features first. Start with the flooring. The flooring you will choose is most probably going to be one of the most serious investments you are going to make for the spare bedroom, but also the one that worth it the most. Of course, you would like to get something amazing for your hard-earned money and because of that, wooden flooring is the best option you have. Not just because of the fact that wood looks amazing and brings elegance, recognisable and statement style and a lot of warmth and cosiness to any space, but also because of the fact that wood is extremely long-lasting and hard-wearing material that is even more solid and highly recommended for places, where high traffic and heavy footfall are not expected.
Wooden flooring can be considered as a real statement and a basic in every interior design and wood is practically the best choice for all styles, from modern and minimalistic to traditional and rustic. So, no matter the style of your spare bedroom, wood will always match and meet your requirements and answer your taste. You can easily transform the whole atmosphere and the feeling in your spare bedroom by installing a new wooden floor or refinish the old one and breathing a new life. You will be surprised how much a re-finishing and the re-sanding job can make a difference and get rid of all imperfections, scratches and stubborn stains.
If you are in need of more advice, ideas and inspiration, be sure to check out our blog every week!