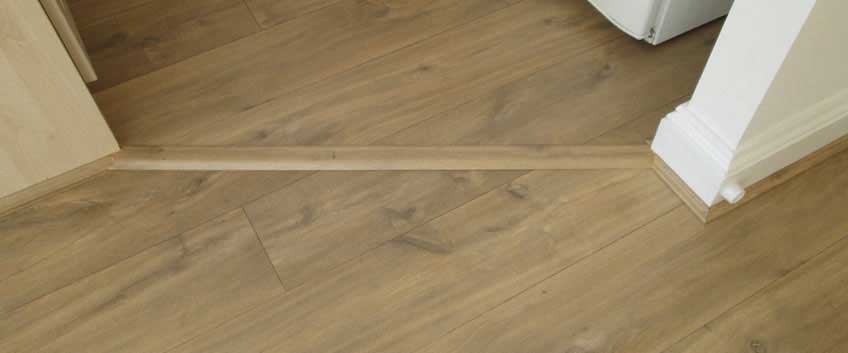 An important aspect of hardwood flooring installation, many people do not think of, until it is late, is hardwood flooring transition, or how your floor will transition from one room to another, from one space to another. After all, hardwood flooring and the atmosphere it creates in the room is very important, but it is also very important how you will match it to the whole interior design of your home. A fantastic way to add a lot of personality and uniqueness to your interior design is through flooring transitions and how well you manage to match them (or mix and match them). The way you make the shift from hardwood to any type of flooring says a lot for your attention to details, your overall sense of style.
Looking for ideas for transitions? We hope we can help you with a few ideas that are tried and proven stylish and successful.
Mixing too many types of flooring is not a good idea. You will end up with a huge patchwork art under your feet and this may sound like a very cool style to create, however, mixing too many materials, patterns and colours will leave you with a pretty overwhelmed and intimidating space that looks and feels smaller and cramped. The best way is to make sure that no matter where you are standing in your house, you can see no more than two different types of flooring transition. This will definitely add a lot to the feel for larger, airy and open space.
You cannot find a particular space, where one material to transition to another? Even better, although a bit harder, because you can get really creative! You can get very artistic and achieve an attractive and eye-catching transition that will add a lot to the whole interior style.
Try to pick materials with similar hues and undertones, this will guarantee a smoother transition. You can easily match the stone to wood, or tiles to wood, based on a similar colour palette conception.
Your space has a more open plan? This gives you a great opportunity to create a nice design through transitions. You can even set different spots and places around the whole space by using different flooring materials for each of them.
You can also use other features of your interior design, furniture pieces and even decorations to match to your flooring and that way create a more even and consistent look and feel in a certain space, so you do not worry for whether the transition will be that matching and smooth, or not.
Remember that the moulding you use does not have to match either hardwood or alternative materials.
You can get very creative and use the two flooring materials to intentionally make a special design that will work as the focal point of the space and make a statement that is both beautiful and functional. For example, you can make a stone medallion in the middle of the wooden surface, or create a rug-like design.
Use an elevation change (like steps) to transition from one type of flooring material to another.