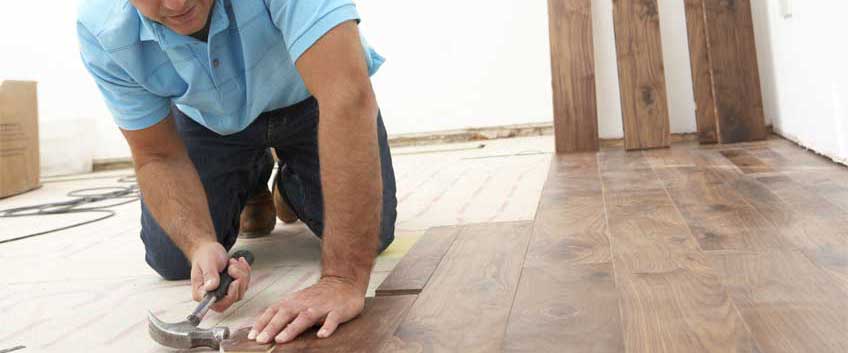 When going on a wood floor shopping tour you will be presented with three main options, two of them made completely from real wood and lumber products – solid wood and engineered wood floors. While solid wood, as the name suggests, is made entirely from one wooden piece, engineered wood is a man-made product with a specific structure.
Engineered wood is made from multiple layers of softwood, plywood or some other kind of lumber material. Depending on the manufacturer, the price and the quality, the number of these layers differ. Then cut in planks, every plank is covered with a hardwood layer with different thickness. Again, the thickness of the top veneer also influence the quality and respectively – the price of the material. The top veneer is always made from hardwood and differs in grades and the wood species used. As it comes with solid wood, engineered wood can look very rustic with a lot of natural knots and swirls, or it can have a very sleek and polished surface and a clean look. The natural characteristics of hardwood are categorised in grades, where prime is the most expensive one and rustic – way cheaper.
Engineered wood looks exactly like solid wood when installed. It is hard to tell the difference even for the professionals sometimes, this is how well engineered wood floors imitate solid wood. In fact, imitation is not the right word, because unlike laminate, which is often made with an image of the wooden surface under a clear layer, engineered wood is made from real and natural wooden products. This makes engineered wood often a better choice than solid wood because it looks great and very classy and elegant, it is a cheaper alternative and it is way more solid, long-lasting and hard-wearing, because of the specific structure.
Why engineered wood is more resistant than solid wood? We have already mentioned the structure made out of a number of layers. The layers are glued together in a crisscrossed configuration and then pressed to each other. What is the essence of the crisscrossed arrangement? Now, solid wood is popular as sensitive to humidity, moisture, high traffic, temperature extremes and another impact of the environment. Because of that, solid wood is often facing the problem of contracting and expanding, which is a completely natural process and can't be avoided, however, it can lead to broken and cracked boards and other major issues. The crisscrossed-layered structure of engineered wood is developed exactly for the reason of preventing this "movement". Because of that, engineered wood is very resistant and experiences very well the changes in the environment and remains very solid and sturdy for longer. This makes engineered wood the perfect choice for areas, where interior humidity and a high level of everyday use are expected.
If you are interested in the engineered wood topic, or would like to consider installing an engineered wood floor on your property, be sure to get in touch with the experts and request additional information.