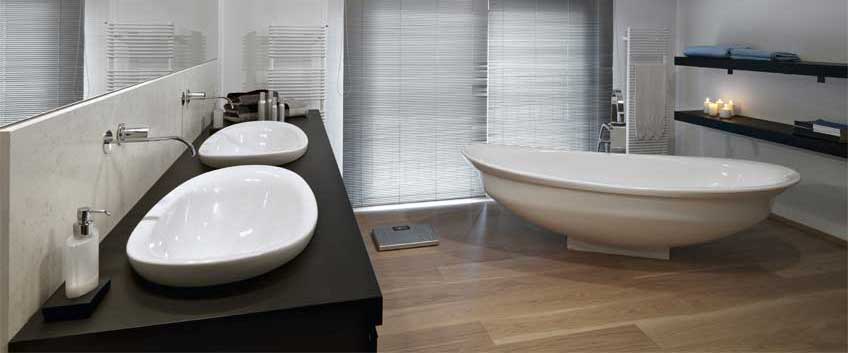 Renovating or planning a bathroom is probably the most difficult part of the whole home renovation and improvement project. What is the difficult and complex part, you might ask, you don't need almost any furniture pieces, neither decoration, etc. You decide on a certain style and simply buy the bath, the sink, a mirror, a mat, a bath curtains and that is all. Well, you forget about the most essential part of the project – the flooring. Choosing a type of flooring that is both beautiful and stylish but also resistant to moisture is a pretty tuff task. And by mentioning moisture, we are not talking about a few water splashes and spills, but an aggressive environment of humidity and steam, where any kind of wood flooring won't survive. Well, well, in order to prove wrong the last statement, welcome to a new era of wood flooring which is completely suitable for the humidity area, also known as a bathroom, with the name engineered wood flooring.
What makes engineered wood that special? First of all, let's clear out why solid wood floors are inappropriate for bathrooms. Solid wood timbers no matter how beautiful and stylish they look don't have to tempt you in this case because with time and due to the humidity and moisture, no solid wood timber will survive. You will start noticing major issues soon or later because water and moisture, in general, are the worst enemies of solid wood, making it soft, damaging it and making it contract and expand and then causing cupping and "ballooning" which will lead to loose unglued timber and even worst – broken and cracked. In addition, the finishes suitable for solid wood often start to chip and peel off.
Engineered wood, on the other hand, is made to look exactly like real wood but way more resistant to moisture and not that sensitive. Believe us, sometimes it is hard to even for the professionals to tell the difference between them both and the way they look and feel. Engineered wood is, however, manufactured to survive a more aggressive environment successfully. Its structure is made from multiple softwoods or plywood layers, glued together in a crisscrossed pattern which minimises the impact and damages, caused by humidity.
That said, you still need to make sure to choose a quality and appropriate sealing product with a high level of resistance and won't turn into a subject of future issues. In general, the factory-applied finishes and sealants are very hard-wearing and durable, so make sure to buy quality products and materials to last for longer. Another option for bathrooms is laminate. However, laminate is not a real wood product, although it is made to look and imitate wood with an image, placed under a clear veneer. Laminate is a cheaper alternative and if you decide to choose it over engineered wood, simply make sure you buy a water-resistant product.